09 May 2022

|

Media Release
New bridge to view world-famous Wellington Dam mural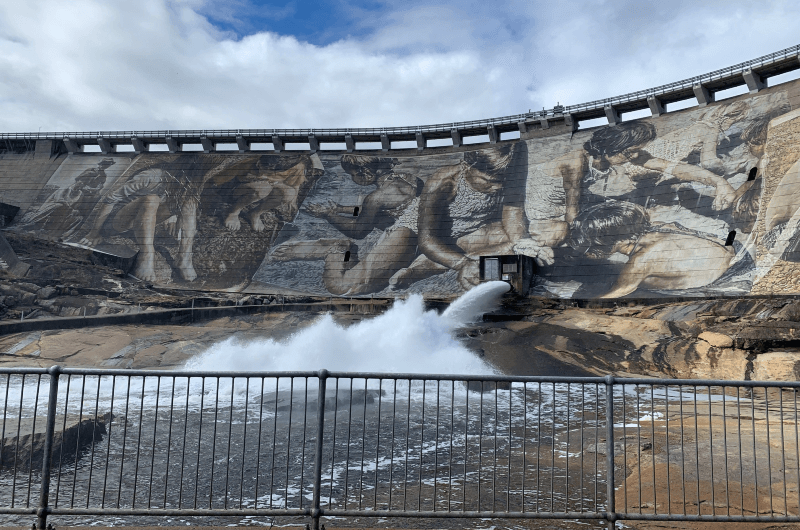 New bridge to support increase in visitors to Wellington Dam mega-mural

To provide a new, safer viewpoint for the world's largest dam mural

Existing bridge now closed to traffic but remains open to pedestrians

McGowan Government has allocated more than $100 million towards job-creating regional development projects in Collie to support economic diversification
The McGowan Government will build a new bridge to enhance the safety of visitors to Collie's world-famous Wellington Dam mural, with $10 million allocated towards the project in the 2022-2023 State Budget.
Built in 1966, the existing single-lane traffic and pedestrian bridge spans the Collie River at the foot of the 8,000 square metre mega-mural painted by Australian artist Guido van Helten.
Since the mural was completed in February 2021, the bridge has seen a major increase in traffic.
As a precautionary measure due to increased traffic, regular structural assessments of the bridge's condition have been carried out. The most recent assessment recommended the bridge be closed to traffic as a precautionary measure.
The bridge remains open to pedestrians and traffic management is in place to prevent vehicles accessing the bridge, providing a safe vantage point to view the mural.
Work to replace the bridge is expected to begin in 2022 and Water Corporation is investigating options for temporary reinforcement that may allow it to reopen to passenger vehicles in the interim.
Once finished, the new dual-lane bridge will provide greater separation between pedestrians and motorists, with the footpath moved to the dam-side of the bridge for an unobstructed view of the mural.
The $10 million commitment adds to the more than $100 million already invested by the McGowan Government in job-creating regional developments and infrastructure projects, and new tourism opportunities in the Collie region.


In collaboration with the Department of Biodiversity, Conservation and Attractions, Water Corporation recently completed significant upgrades to a lookout platform at the dam to improve viewing for visitors to the area.
Comments attributed to Water Minister Dave Kelly:
"In this week's State Budget, the McGowan Government will allocate $10 million to a new traffic and pedestrian bridge at the Wellington Dam mural.
"This investment will help ensure infrastructure is of a standard that can support the increase of visitors to the area, now and into the future.
"This announcement is particularly timely as we advise that the existing bridge, which was built in 1966, has been closed to traffic as a precautionary measure.
"Recent monitoring and inspection of the bridge has been a prudent measure given the significant increase in traffic flow since the mural opened.
"The bridge remains open to pedestrians and offers a safe and spectacular vantage point to view the mural. All other facilities at the site also remain open, with the only difference being that vehicles cannot cross the bridge."
Comments attributed to Collie-Preston MLA Jodie Hanns:
"By replacing the bridge, more people will be able to take in the spectacular mural from a safe vantage point, whether as a pedestrian on the bridge walkway or from their seat on a bus or coach.
"Tourism in Collie is growing at a rapid pace and the McGowan Government is supporting this growth by continuing to invest in projects that accelerate the region's transformation into a vibrant tourism destination."
Minister's office - 6552 6100