Pipes for Perth - East Fremantle 
Project goal:
Renewing water pipes in East Fremantle and Palmyra
Status:
In design
Delivery Date:
Late 2021 - Mid 2022
Get Involved:
Visit the engagement hub to register for updates, see the pipeline alignment, read the frequently asked questions, access resources for businesses, and ask to questions about the project.
What's happening?
As part of our ongoing commitment to future-proof Perth's water supply, we will soon be renewing water pipes in the Town of East Fremantle and the City of Melville. This work will improve the security and reliability of the water supply for decades to come.
Where is this happening?
Around 3km along Fraser Street, Petra Street, Fletcher Street, Moss Street, George Street, Silas Street, St Peter Road and Sewell Street. There will also be work completed on the corner of Preston Point Road, Staton Road and Alexandra Road.
Please refer to the map below.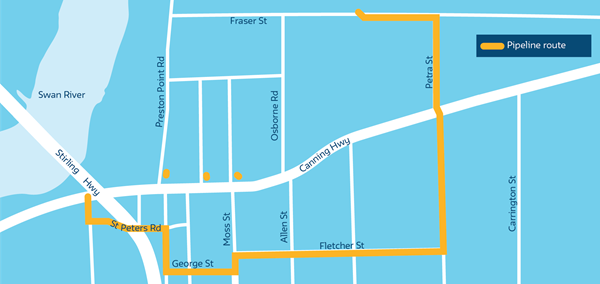 The new water pipe will be installed in one lane of the road via open trench excavation.
Horizontal drilling will be used to cross under Canning Highway at Petra Street and Sewell Street to avoid interrupting the flow of traffic on the highway.
When is this taking place?
Construction work is planned to begin in late 2021 and is expected to take about 10 months to complete.
The majority of the work will be completed between 7am and 7pm on weekdays, and Saturdays as required. If night work is required, residents will be notified at least 48 hours in advance.
More detailed information including the construction start date, time frames and our contractor details will be provided closer to construction starting.
What will the impacts be?
Construction impacts
Aspects of construction including cutting into the road and compacting earth will cause noise, dust and vibrations.
Initial geotechnical assessments have identified that possibility of limestone in the area that will require excavation. Removal of limestone may involve rock breakers which can be noisy and cause strong vibrations. All reasonable precautions will be taken to minimise noise and vibrations during the work.
Traffic interruptions
Sections of the road will be closed to install the new pipe. The opposite lane will remain open throughout construction and traffic management will be in place to assist drivers with road diversions.
On-street parking will be restriction in the area during construction, including on Silas Street and Sewell Street.
Access to your property
Access to your driveway may be temporarily restricted during construction. Our contractors will notify you in advance to allow vehicles to be moved before the closure. Please contact us if you have concerns about access to your driveway or deliveries to your property.
Water supply interruptions
You may experience a temporary water supply interruption while the new pipe is pressure tested and connected to the network. Our team will notify you at least 48 hours before this occurs. Please contact us if you have any water requirements during these disruptions.
Restoration of impacted areas
Our construction methods mean unavoidable impact to the road, kerb and verges. All areas impacted by the work will be returned to as close to their original condition as reasonable.
We understand and appreciate that this essential work may cause temporary inconveniences and disruption, and we will do what we can to minimise impacts where we can.
Water pressure
The water pipe renewal work will not impact on the water pressure at your property. If you do experience low water pressure or water quality issues, please visit our water issues page for help and advice.