Water efficient technology
In the face of climate change, we have a shared responsibility to conserve and protect our precious water. Employing cutting edge water efficient technology, just as these Gold Waterwise businesses have, provides impressive water savings and a foundation for future innovations.
Dampier Salt – Dampier Operations' location on the Dampier Archipelago surrounded by seawater has provided them with a great opportunity to reduce freshwater use. Conveyors and haul trucks are now all primarily washed with seawater. Due to this clever seawater substitution program, Dampier Salt has managed to almost halve their overall water use. But their quest to reduce this figure continues. All levels of the business are involved in making small changes to ensure water conservation is engrained in corporate culture. This includes upgrades to infrastructure, improved leak detection, rigorous reporting and training for all staff.

Dampier Salt has managed to almost half their water use following their seawater substitution program – they have implemented infrastructure which makes use of the surrounding seawater to reduce freshwater use.
Beatty Park, a leisure centre in Leederville, is always looking for opportunities to innovate and improve their facility and maintenance planning. Their commitment to water conservation led to the installation of a water efficient hot water system and replacement of a 100mm ring main to prevent leaks occurring in the old pipework. Dual flush toilets, water efficient shower heads and low flow urinals have also been installed, all of which have been embellished with waterwise messaging for patrons. Another clever initiative is their pressure-based backwashing to minimise water use. Backwashing an entire pool requires a lot of water so rather than do this on a regular schedule, they only backwash when the system advises because of increased pressure.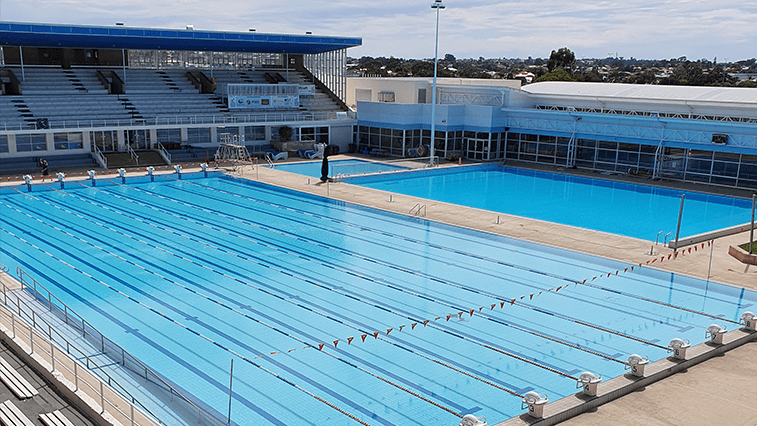 Beatty Park Leisure Centre has implemented clever initiatives such as pressure-based backwashing to help them reduce the amount of water used to maintain their pools.
Stockland Riverton Shopping Centre collaborates with other centres in their portfolio to remain ahead of the game with water efficient technologies. With the development and introduction of online water tracking software, Stockland has achieved a far more co-ordinated approach to overall water management. This tracking also incorporates recently installed 4-star Water Efficiency Labelling and Standards (WELS) rated tap timers which have been attached to public amenities. Tenants are metered separately and are able to access this information to better understand their individual water footprint. These initiatives have contributed to over 20% reduction in water use over the last year. Other cost effective reductions have come about from redesigning their irrigation system and investing in waterwise plants.
RAC Exmouth Cape Holiday Park recently reinvigorated their lush surrounds, presenting an opportunity to implement invaluable water saving hacks across the park. Automated irrigation now prevents over watering and taps have been upgraded to 4-star WELS rated products. Daily checking and repairing of leaking taps occurs in the three main amenities blocks and at the end of season a full inspection is conducted. Upon the refurbishment of the site's centre amenities block, grey water is now recycled from the basins to mix with bore water. This mix of grey water and bore water is now used to irrigation the grounds and lawns.
City of Joondalup – Craigie Leisure Centre has gone to great lengths to maximise water saving through a series of innovative modifications. Additional sub meters and the replacement of outdoor pool filters, showerheads, tap fittings and toilets to improve the water system was one aspect. But they also dug deeper to investigate their processes. They discovered that by reducing pool backwashing from 2 minutes to 1 minute, they could reduce water use by 50,000 litres over a 12-month period. Additional sub meters are now in place for daily monitoring.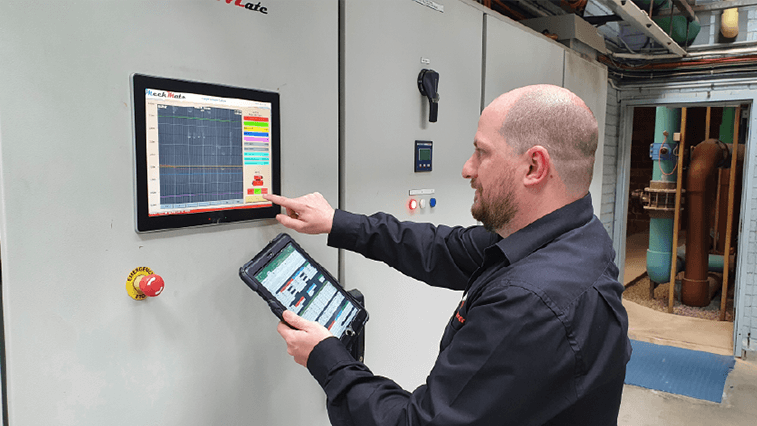 Daily water use monitoring at Craigie Leisure Centre.