Alkimos Seawater Desalination Plant
WA's new major water source is coming
Declining rainfall driven by climate change, together with a growing population, means WA will soon need a new major water source.
To help reduce our dependence on rainfall and groundwater, we are preparing to deliver a new seawater desalination plant. This will help provide secure, sustainable drinking water into the future.
The future Alkimos Water Precinct
Alkimos is the preferred site for a future desalination plant to meet the needs of our growing city. At full capacity, the plant will be able to supply 100 billion litres a year of clean, safe drinking water to millions of Western Australians.
Read a transcript of this video
The Alkimos Seawater Desalination Plant (ASDP) is proposed to be on Water Corporation land, next to the existing Alkimos Wastewater Treatment Plant, within the future Alkimos Water Precinct.
It will be hidden behind large, vegetated sand dunes that will absorb noise and protect visual amenity.
Why we need a new water source
Since the 1970s, rainfall in southern WA has reduced by around 20%. This has seen an average 80% reduction in streamflow to our dams. Modelling shows the drying trend will continue with winter rainfall forecast to decrease by up to 15% by 2030, compared with the previous 20-year period.
Before 1975, Perth's dams received an average of 420 billion litres of streamflow each year. That's enough to meet Perth's drinking water needs even with today's population. Today, we average less than 70 billion litres. Learn more about how Perth's water sources have changed over time.
Data is cumulative for each year selected.
Select each point to see streamflow.
Climate change is also impacting groundwater levels across Perth and Mandurah. We will reduce our annual groundwater allocation by 30 billion litres from the Gnangara groundwater system by 2028.
Population growth in the Perth and Peel regions is projected to reach 2.9 million people by 2031 and 3.5 million by 2050. Modelling shows we need up to 125 billion litres a year to meet demand by 2035, depending on climate and demand factors.
It's important we act now to ensure the future security and sustainability of our precious drinking water supplies.
Ensuring the lowest environmental impact
Like our existing desalination plants, ASDP will be designed to meet stringent environmental protection criteria. Comprehensive assessments have been completed detailing our plans to protect the surrounding environment. These are in the submission currently being assessed by the Environmental Protection Authority.
This includes using specialised tunnel boring machines to help minimise seabed disturbance and protect coastal sand dunes. Modelling has shown any water returned to the ocean through the desalination process will mix with surrounding seawater quickly and have minimal impact on marine habitats.
ASDP, together with our existing desalination plants in Kwinana and Binningup, will be powered by renewable energy sourced from WA renewables projects.

You can learn about the desalination process here.
Why desalination is the most effective option
Desalination is a safe, economical, and most importantly climate-resilient water source.
Water Corporation is a leader in the delivery of innovative, rainfall-independent water sources. We were the first utility in Australia to desalinate seawater as a large-scale drinking water source.
We already operate two advanced desalination plants. These provide nearly half the drinking water to homes and businesses across Perth and some regional areas.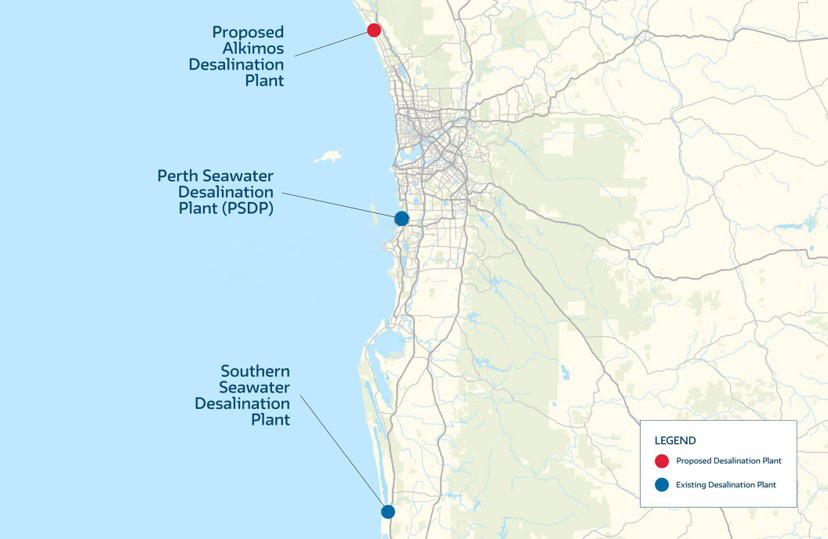 Today, there are six large-scale drinking water desalination plants in Australia – two in WA, and one each in Queensland, New South Wales, South Australia, and Victoria. Desalination is used in 120 countries around the world due to its efficiency and sustainability as a safe water source.
Reducing our groundwater allocation
It's been many years since we could rely on rainfall alone for our drinking water. We're working to support a healthy, balanced groundwater system. This is vital for healthy wetlands, parks, forests, and public open spaces.
We will reduce our annual groundwater allocation by 30 billion litres from the Gnangara groundwater system in 2028. A new rainfall-independent water source - the Alkimos Seawater Desalination Plant - will help make up this shortfall.
Becoming net-zero by 2035
As part of our commitment to a sustainable, low-carbon future, we have set an ambitious target of becoming a net-zero greenhouse gas emitter by 2035.
To help achieve this, we plan to source 400 megawatts of renewable energy from WA renewables projects. This will help meet the total annual energy needs of ASDP and WA's existing desalination plants in Kwinana and Binningup by 2030.
This ensures the same amount of power needed to operate these plants can feed back into the grid in the form of renewable energy.
Expected to begin operating in 2028
We're planning ahead to meet the future water needs of Western Australians. ASDP will be built in two 50 billion litre per year stages, with the first stage operational in 2028.
A new seawater desalination plant will help address the impacts of climate change. It will also support a strong state economy and green, liveable communities.
Want to stay in the loop about WA's new major water source?