29 Jun 2021

|

Update
Helping Exmouth manage water through the WA tourism boom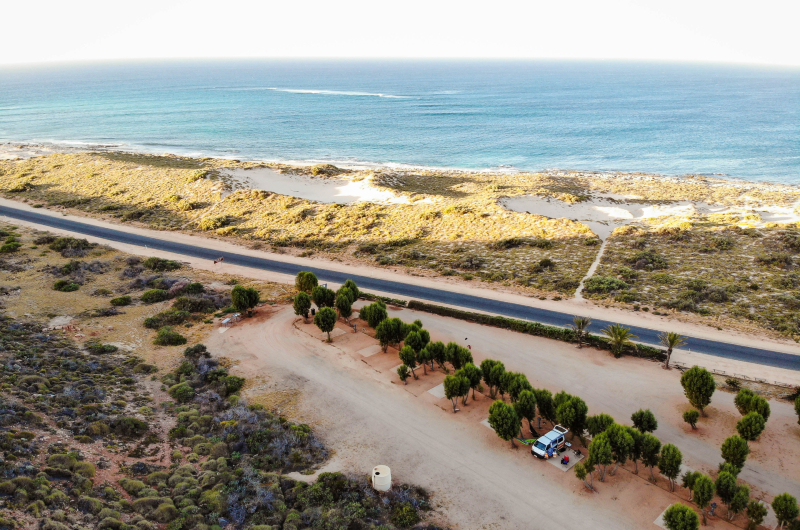 Aerial view of Exmouth, Western Australia. Photo by Amanda Klamrowski on Unsplash.
Local tourism in WA is booming thanks to travel restrictions. Catch ups with friends and family are rich with outback adventure stories, surprise animal encounters, foodie tips and whispers of secret destinations the rest of us haven't caught onto yet.

While it's probably the last thing on your mind as you wander out yonder, increased tourism is putting pressure on regional WA communities where water supplies are already under strain because of climate change.

To help manage the situation, we are working with popular tourist areas including the town of Exmouth, where we have introduced water saving initiatives like showerhead swaps, free plumbing retrofits for businesses, and a letter campaign to help residents better understand their water use.

The measures we have taken in Exmouth will help preserve this unique and beautiful place for future generations. Here's a snapshot of how we have worked with the community to save water and how you can help, too.
9,000 buckets of water saved per day by fixing leaks around town
"Through our data logging program, leaks were identified at business sites and rectified by using leak detection equipment and extensive engagement with the local plumber," said Principal – Customer and Stakeholder John D'Arcy.

Several leaks were located using our own ultrasonic leak detection equipment to help one of the largest caravan parks. Repairing these leaks resulted in a saving of 90,000 litres—that's 9,000 buckets of water—per day.

Tip: If you spot a leak where you are staying, let the staff know. They will be able to contact a Waterwise Plumber to help fix it.
Simple retrofits help Exmouth become more water efficient
Often, something as simple as replacing fixtures, like taps and showerheads, can significantly reduce your water use.

Senior Advisor – Demand Projects Sara Ward said, "With Exmouth being a popular fishing spot, the tap at the fish wash facility was constantly left on wasting precious water. This has now been upgraded to a water saving push tap, reducing flow from 30 litres per minute to just five litres per minute.

"We've made significant improvements to a number of facilities throughout town, including the 2020 Gold Waterwise Business of the Year winner - RAC Caravan Park, Ningaloo Caravan Park, Exmouth Swimming Pool which is part of the Waterwise Aquatic Centre Program, Exmouth District High School, and the town hospital.

"The community also participated in our 2020-21 Showerhead Swap program. We're pleased to see that 148 showerheads were swapped, saving an estimated 1.9 million litres since October 2020."

Tip: Consider swapping the fixtures at your holiday home for water efficient alternatives. You will save water and some money on your bill, too. And remember to stick to a four minute shower.
Understanding household water use has helped Exmouth families change how they use water
"We also wrote a series of letters to over 300 customers in Exmouth to help them understand and track their water use and to provide tips on how to save. These letters have helped reduce water use by four million litres compared to the same time the year before," said Sara.

"We encourage all customers to understand their water use and find ways to save. Every drop counts!"

Tip: You can track your water use and compare it to other households like yours through your online account.
Shire of Exmouth on the way to becoming a Waterwise Council
The Shire of Exmouth is on a journey to becoming endorsed in the Waterwise Council Program. This will enable them to monitor their corporate and community water use and gain access to a range of initiatives such as free waterwise education resources, data loggers to assist with leak detection, and access to funding for the Waterwise Greening Scheme.

In an extra boost to help the community preserve precious water, messages targeted for popular tourist towns will promote waterwise behaviours during school holidays, so keep an eye out and follow the tips if you're lucky enough to be there!

Find out how you can save water on your travels around WA and help preserve the unique and precious way of life in our regional towns.