25 Sep 2015

|

Media Release
Huntingdale PS celebrates a decade of waterwise education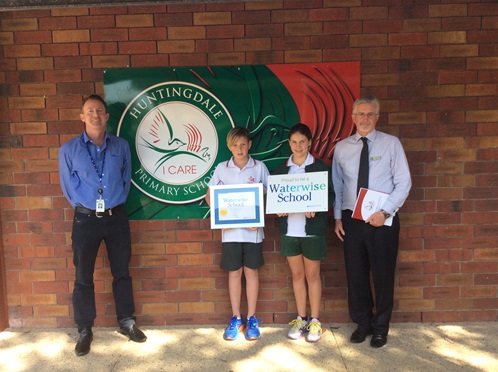 Huntingdale Primary School will celebrate 10 years enrolled in Water Corporation's Waterwise Schools Program at a special ceremony to be held today.
As part of the program, teachers at the school have been educating students on the need to value, protect and conserve water resources for a decade.
Water Corporation General Manager Customer and Community Group, Catherine Ferrari, thanked the school for its dedication to the program.
"Students are the water users of the future, so its important schools continue to educate students about the value of water in our drying climate," Ms Ferrari said.
"Thank you to students and teachers for your dedication to the program and I look forward to the next decade of waterwise education at Huntingdale Primary School."
Huntingdale Primary School Waterwise Coordinators Natalie Birrell and Rubina Isherwood have worked diligently to maintain the program over the past 10 years.
Ms Birrell said waterwise principles were included it in the school's development plan and the teachers, students and wider community have an ongoing waterwise commitment including the recent installation of a community waterwise garden.
"The refurbishment of our school garden by staff, students, parents and a dedicated scout group provides a key means to clearly illustrate valuable waterwise principles and an awareness of the value of water by the children and their families," Ms Birrell said.
Ms Birrell said students learn about water through the science curriculum and through the use of water tanks, water saving taps and dual flush toilets at the school.
Now in its 20th year, Water Corporation's Waterwise Schools Program takes a long-term approach to water education and behavioural change, and complements the curriculum across all major learning areas, especially science.
Further information on the Waterwise Schools Program is available at watercorporation.com.au
---
Media Enquiries:
Contact: Media team
Phone: (08) 9420 2555