28 Jun 2017

|

Media Release
Eneabba Primary School celebrates a decade of waterwise education
Eneabba Primary School celebrated 10 years enrolled in Water Corporation's Waterwise Schools Program at a special assembly today.
Over the last decade teachers at the school have been educating students on the need to value, protect and conserve water resources.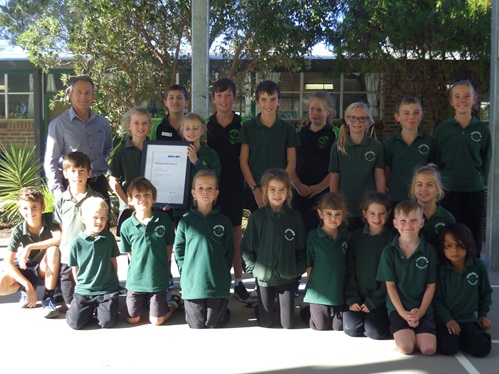 Water Corporation Mid West Regional Manager, Stephen Greeve, thanked the school for sharing the waterwise message.
"In Western Australia, it is important the next generation are aware of how precious water is and Eneabba Primary School has been sharing this message for 10 years," Mr Greeve said.
"Thank you to students and teachers at Eneabba Primary School for your dedication to our Waterwise Schools Program."
Eneabba Primary School Principal, Emma Hedley Cooper, said water was one of the most important resources, therefore it was important the students were educated about where it comes from and how to protect it.
The Waterwise Schools Program takes a long-term approach to water education and behavioural change, by complementing the curriculum across all major learning areas.
Find out more about the Waterwise Schools Program.
---
Media Enquiries:
Contact: Tracy Antrobus
Position: Regional Engagement and Communications Officer
Phone: (08) 9923 4911