27 Oct 2017

|

Media Release
Metropolitan region weekly water update data as at 27 October 2017
Target

Actual

19.9 billion litres

18.8 billion litres

N/A

45.2%

(since 1 May 2017)

25 billion litres

86 billion litres

51.8mm

(monthly average)

39.6mm
Note: 1 billion litres = 1 Subiaco Oval filled to the goalposts
With summer only five weeks away, now is the time to prepare your garden for warmer, drier weather. Our top tips to prepare your garden for summer are:
A good start is to look at your soil, as this can be the foundation of a healthy garden and provides the best conditions for you to use less water on your plants to keep them healthy.
Sandy soils are common in Western Australia and have a very poor capacity to hold water. Mixing in soil improver into the top 30 cm of your soil, then adding and watering in a soil wetting agent. This will help it hold more water and allow it to penetrate the roots of your lawn and plants.


Don't forget to mulch – mulch is like sunscreen for your soil, it reduces evaporation, weed growth, wind erosion and the stress on plant roots.


Consider planting more climate tolerant plants, they can still be beautiful and full of colour, they just don't need as much water. If you would like to know what waterwise plants would suit the conditions around where you live in WA, go to the waterwise plant directory on our website.


It's also useful to hydrozone your plants – in other words - group plants together with similar watering needs, to make sure your garden is getting the right amount of water it needs without wasting a drop.

We're here to help!

Mulch, soil wetting agent and soil improvers are all available through our Waterwise Garden Rewards Program. Through this program, our customers across Western Australia can purchase selected waterwise products from Bunnings and receive one, two or three more products, free of charge thanks to the Water Corporation.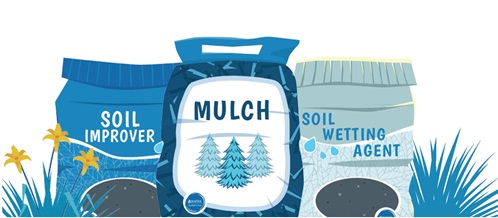 In the first three weeks of the program, 1,349 vouchers have been downloaded by WA residents, allowing them to claim 2,775 offers on waterwise mulch, soil improver and soil wetting agent at their nearest Bunnings store.

For those in Perth who would like to set and forget their irrigation, there is a new Waterwise Irrigation Controller Offer. The offer is available through Waterwise Irrigation Specialists and allows households to receive a 50 per cent discount (maximum of $350) on a weather based irrigation controller.
In the first three weeks of the program, 13 Perth households have claimed the offer.

To get involved in these initiatives, visit https://watercorporation.com.au/save-water/water-saving-programs
Water use
Our average daily water use last week was 744 million litres, which was below the forecast of 776 million litres per day. Our financial year to date water use is 72.44 billion litres – good news as it's less than the 73.16 billion litres we forecast.
Dam levels
Over the last seven days Perth's dam storage levels decreased from 45.4% to 45.2% (0.2 percentage points). It's important to remember Perth's dams also store ground and desalinated water that is transferred from our treatment plants.
Sprinkler roster compliance
The two-day-per week sprinkler roster now applies, and this week our inspectors issued 51 warnings and 77 fines in the metro region. This is compared to 48 warnings and 67 fines the previous week. Year to date we have taken a total of 7,823 actions (warnings + fines) compared to 8,734 actions for the same period in 2016.
Rainfall
The average monthly rainfall for October is 51.8mm but for the last three years we have received less than this amount. So far this month we have received 39.6mm of rainfall. Since 1 January 2017, we have received 806.20mm of rainfall compared to the cumulative average of 811.2mm (January to October).
---
Media Enquiries:
Contact: Media Team
Phone: (08) 9420 2555