Advice Article
WA Police case study
We notified WA Police regarding a potential water leak at the Maylands Police Complex and through the use of leak detection specialists and data loggers it was found and repaired.
Key achievements
3.4 million litres of water saved
$10,000 saved over 4 months
Why we acted
"WA Police continue to implement a range of strategies and initiatives to reduce our water consumption and with many of our facilities having aging infrastructure, leaks are often difficult to detect and repair. To reduce further incidences of major water leaks we are undertaking a program to install data loggers on our incoming water supplies at all our major facilities" Graeme Lockhart & Kirsty Grey, Sustainability Project Officers, WA Police.
Maylands Police Complex occupies a site totalling approximately 200,000m2 set next to the Swan River in an area prone to flooding. This complex experiences a diverse site use and is occupied by staff 24 hours a day, adding complexity to understanding regular water usage patterns.
How we did it
A site walk through resulted in no obvious water leaks, which was a difficult task given it was winter and this site is located beside the Swan River.
A plumber was then engaged who was unable to located any obvious leaks throughout the site and associated buildings.
To isolate the possibility of a pool leak the pool auto top-up was turned off and main meter reads continued. The pool was ruled out after careful analysis of the sub-meter readings.
WA Police organised a leak detection specialist who spent two days on site tracing water mains and ring wains through the site with electronic water detectors and had no result.
Original hydraulic drawings from the 1960s were obtained. A wet patch was noticed during a period of dry weather.
A leak was located in a pipe one meter below the surface close to a demountable building and repaired the same day. This location was extremely close to the river further complicating leak detection given it was during winter and the ground is often wet.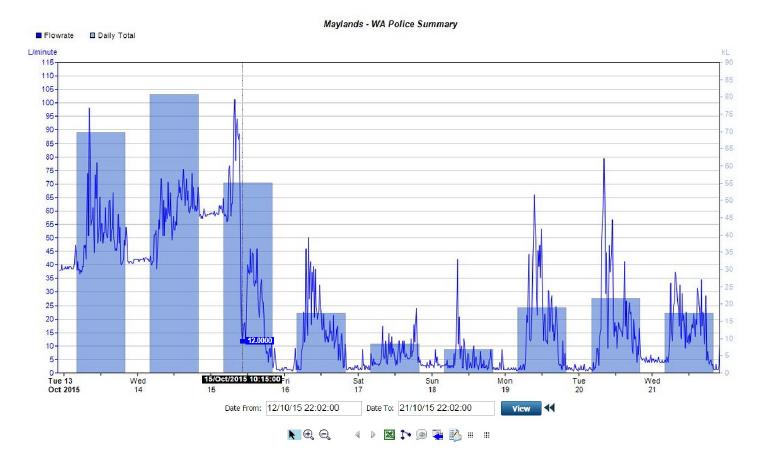 The leak prior to being repaired and after the repair.
How we did it

| Equipment | Waterwise services | Waterwise products |
| --- | --- | --- |
| Electronic water detectors | Leak detection specialists | Data logger |
| | Plumbers | |
| | Pool leak detection specialists | |
| | Water data logger company | |
What we are doing now
Ongoing monitoring through the data logger and extra vigilance by all staff members on leaks.