Help Article
Deferred service charges
If you're a concession customer, you may be eligible to defer paying your service charges to a later date. When you choose to defer your service charges, however, the concession rebate will be lost, and the full-service charge amount (not including concession rebate) will go into deferment.
To retain the concession rebate on your service charges, you will need to pay them by the due date - if you don't, the deferment will automatically be applied.
For example, your service charges are $185.13 and with the concession rebate, you are asked to pay $96.52. If you haven't paid $96.52 by the due date, the full service charge of $185.13 will be deferred for payment at a later date.
Service charges are detailed on the back of your bill as shown in the example below.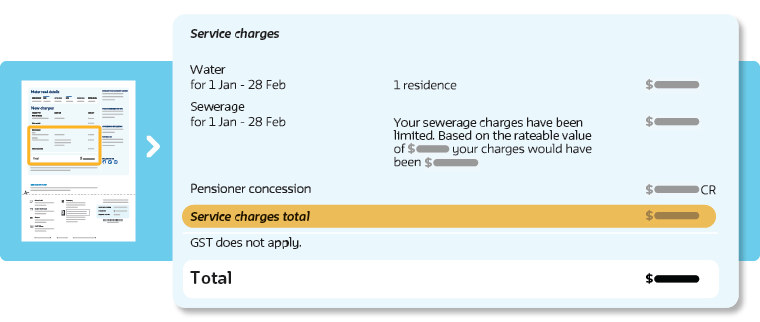 When are deferred charges payable?
For customers who choose to defer payment of service charges, the service charges can remain on hold indefinitely, only to be payable if you sell your home, rent your home out or pass away.
Who can opt to defer?
Eligible Pensioners, Dual Seniors and State Concession Card holders may be eligible to defer.
How do I defer?
If you're eligible, deferment will happen automatically when you do not pay your service charges by the due date.
Please note that you can only defer payments for service charges, so you will still need to pay your water use charges every 2 months.
You can find your total deferred charges amount on the front of your bill directly above the payment slip.

Need a little more time to pay your bill?
If you want to retain your concession rebate but just need a little more time to pay your bill, please call us on 1300 650 471 before your bill becomes overdue so that we can discuss your payment options.