Advice Article
Deferred service charges
Payment of service charges can be deferred to a later date for eligible concession customers. This financial support option is available to help with paying your bill.
No application is required to defer service charges. Once the due date of a bill has passed without payment, the service charges for that bill are automatically placed into deferment.
Who can opt to defer?
Pensioners, Dual Seniors and State Concession Card holders may be eligible to defer payment of service charges.
Please note the deferment option is not available where the property is:
Subject to co-ownership (other than spouse/de facto)
Subject to a long-term lease in a retirement village, park home, lifestyle village or caravan park
Occupied under a life tenancy or right of residency under the terms of a Will of a deceased estate
Not sure if you're eligible? Contact us to confirm your concession details.
How do I defer?
If you're eligible, deferment will happen automatically when you do not pay your service charges by the due date.
Please note that you can only defer payments for service charges. You will still need to pay your water use charges every 2 months.
You can find your total deferred charges amount on the front of your bill under 'Account summary'.

Your concession rebate
If you choose to defer your service charges, the concession rebate for that bill will no longer apply. The full-service charge amount (not including concession rebate) will go into deferment.
To retain the concession rebate on your service charges, you will need to pay them by the due date. If you don't, the deferment will automatically be applied.
Service charges are detailed on the back of your bill as shown in the example below.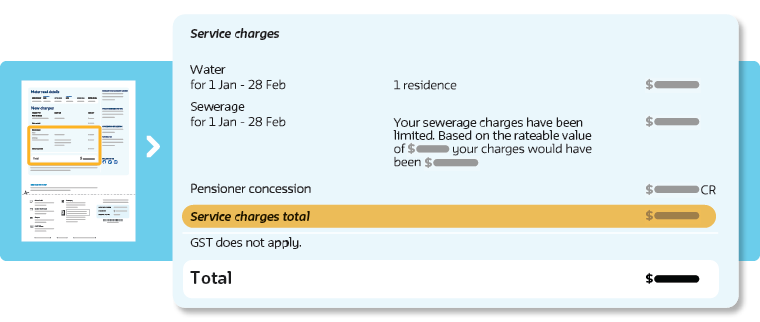 When are deferred charges due?
Deferred service charges can remain on hold indefinitely. They are only to be payable if you sell your home, rent your home out or pass away.
If you want to pay your deferred charges earlier, you can pay these at any time. Once you've made a payment, contact us on 13 13 85 and we will allocate your payment to the deferred service charges. Otherwise, the payment will be applied as a credit to the amounts owing in your future bills.
No interest is charged on service charges held in deferment.
How do I stop my service charges deferring?
Simply pay the service charges on your next bill by the due date.
I accidentally missed a payment
We understand it can be challenging keeping track of bills and their due dates. We recommend setting up a direct debit payment plan to avoid missing due dates.
Contact us on 13 13 85 if you missed a payment due to circumstances outside of your control. For example, if you were in hospital at the time your bill was due.
Need a little more time to pay your bill?
Do you want to keep your concession rebate but need a little more time to pay your bill? Call us on 1300 650 471 before your bill becomes overdue so that we can discuss your payment options.