Advice Article
Service charges only bill
A service charge only bill is issued where there are water and wastewater services available in your area but you're not receiving charges for water use.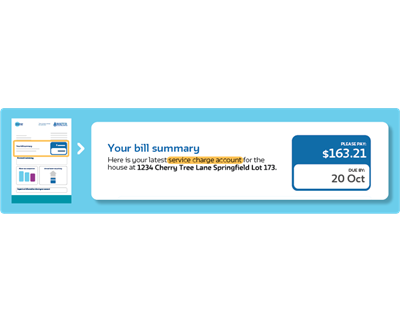 Service charge only bills are common for the following customers:
property owners who have redirected the water use bill to their tenants,
customers of Aqwest and Busselton Water who only pay sewerage charges to Water Corporation,
vacant land owners who have no water use, and
any customer with an unmetered property.
FAQs
Charges apply to any property where services are available regardless of whether you are connected or not. All properties that are able to access our services need to contribute to the cost of providing and maintaining these essential services.
You can
register
here to receive a copy of your tenant's water use bill. Alternatively,
contact us
and we can manually issue a copy of your tenant's bill at your request.
All services charges are fixed annual charges, with the cost divided across your bills for the year. The amount you pay for service charges within a billing period reflects the number of days between your current and next meter reading.